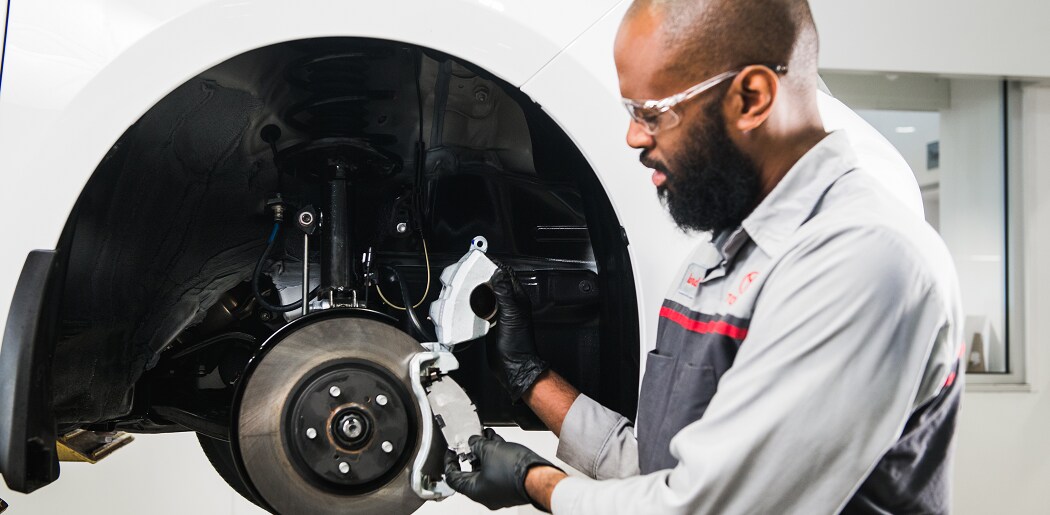 Service Like No Other at Mississauga Toyota!
The everyday stresses and troubles can quickly build up. Wouldn't it be a welcome change to know that someone is out there taking care of you. No Worries. No Stress. No Hassle.
At Mississauga Toyota, our Service Centre only has highly qualified, skilled, dedicated, and professional technicians on site to provide exceptional customer service, quality service for your new or pre-owned vehicles, and peace of mind knowing that you are being taken care of by only the best. Our Service Centre offers many services which include:
Do you know when it is time to have your vehicle's battery replaced?
Promotes safety, peace of mind of your vehicle, improved fuel efficiency and more.
This light is warning of a malfunction and needs to be diagnosed by a technician.
Regularly scheduled oil changes are the best way to prolong the life of your vehicle and validates warranty.
Replacing your vehicles air filter prohibits dirt and debris from entering the inner-engine prolonging engine life.
This service promotes cooling and heating efficiency of the vehicle's heating and cooling system.
Age of brake fluid, the level of corrosion as well as your driving habits are all well known factors when brake fluids need to be replaced.
Revitalize your ride by selecting one of our Toyota Touch cleaning and detailing packages. Click below to see our different packages.
Servicing your transmission prolongs the life of your transmission, keeps the transmission gears and torque converter lubricated.
---
At Mississauga Toyota, our commitment goes beyond just servicing your vehicle. We offer a wide variety of guest services including:
Guest Lounge
Coffee Machine
Kids Lounge 
Complimentary Shuttle
Complimentary Wifi
Large Indoor Showroom to view inventory in a climate controlled environment 
Indoor service drive-through/check-in without having to find a parking spot outside
Schedule an appointment with convenience using our online form and let our staff demonstrate customer service commitment at its finest. 
Our amazing team in our many other departments can help with trade-in appraisals, explaining the difference between Leasing and Financing, answering any questions you may have, and or simply just taking you for a test drive.
While you are at Mississauga Toyota don't forget to check out our Showroom, and our Parts Centre for even more exceptional service.
Let Mississauga Toyota service your Toyota today!